I thought I would give a recap of a great day at the range with my PM-9 for some formal training. I took a 2 day class to help upgrade my NY permit. In NY unless you get a judges permission all permits are restricted to hunting or target practice. Not much good if you want to carry for your own protection. There is a 2 day class to prove skills and you must write a letter to the judge and they
may
upgrade your permit to a no restriction CCW permit.
The class consisted of a 3 hour lecture Friday night and a full day at the range today. Friday night we talked about all the legalities of using lethal force and when there would be justification. This morning there was indoor dry fire training on the proper way to draw, grip and clear jams. One of the instructors dry fired my PM9 and immediately called one of the other instructors to "feel" the trigger in this one
They were all glock fans. I did tell them I sold the g19 as soon as I got the Kahr.
After lunch we put a bunch of rounds down range. Mostly, draw and shoot drills, little bit of movement. Since I'm not former military or an ex police officer it's nice to get formal training.
Today's damage The PM9 functioned flawlessly. I got lot's of tap/rack experience, we needed a random dud in every magazine and 6 and 7 round mags don't go very long if your shooting. Every other round wend bang when I pulled the trigger.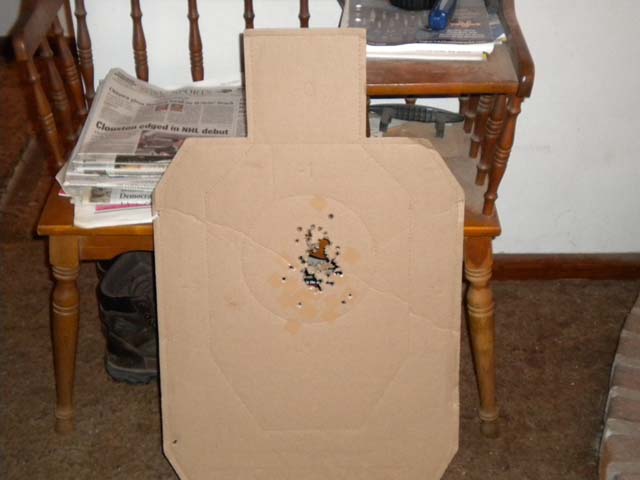 I would have aimed a little higher but I swear he was 8' tall
The new holster is loosening up some with use... guess it's telling me to keep practicing.